72%* of the companies consider User Experience optimization is a priority, to put theory into practice, we need a robust methodology. Now let's check out what we can do by going through the main steps of A/B testing guidelines.
STEP 1 – PERFORMANCE ANALYSIS
To discover what really matters is the first gate to the effective and efficient tests.
FIND YOUR PEOPLE
Before implementing any actions, we need to identify the Project Leader for testing implementation & reporting process as well as Data Owners for technical examination & testing setup.
Tips for starter:
Integrate the reporting process with your Performance Steering / Business committee.
DETERMINE YOUR OBJECTIVES
It is essentially important to define business objectives & KPI's baselines and targets before auditing website performance with which we could identify the real problems and axes of improvement:
What could be the business objectives?
Lead Acquisition, Lead Conversion etc.
What could be the goals of my website?
To acquire qualified traffic, to convert traffic into leads etc.
Volume of Visits, Volume of Leads, Conversion Rate (CR), Cost Per Lead etc.
What could be the targets?
A 20% increase of volume; a 5% improvement of CR etc.
Tips for starter:
Focus on one main goal, distracted by several goals might lead to low efficiency
SETUP YOUR ANALYSIS
To begin with, we need to determine analysis approaches and corresponding analysis tools. There are mainly two analysis approaches that we can leverage:
Web Analytics Analysis could help us to quickly identify the problematic points of the customer path or conversion funnel across the website by looking into conversion-oriented metrics. For instance, with Google Analytics we can visualize the conversion funnel of each page, and by looking into the entrance rates / exit rates of principal pages, we know where to explore further.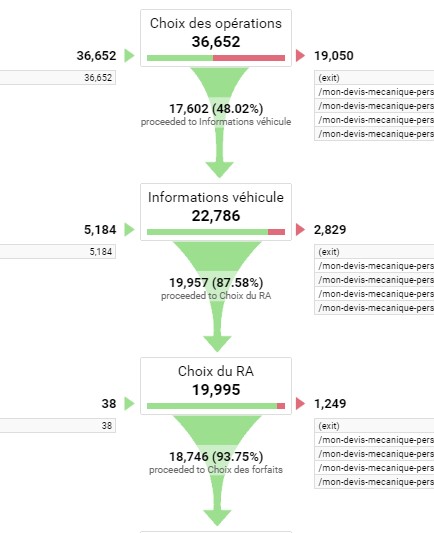 – Mouse Tracking Analysis is to leverage behavior-oriented data to find the blocks/elements on certain pages which could be improved.
– Use simple tools ex. Hotjar to record and visualize user's browsing pattern with heatmaps to directly find the UX problems.
– Use also Form Analysis to improve online form completion rates by discovering which fields take too long to fill, which are left blank, and why our visitors abandon the form and page.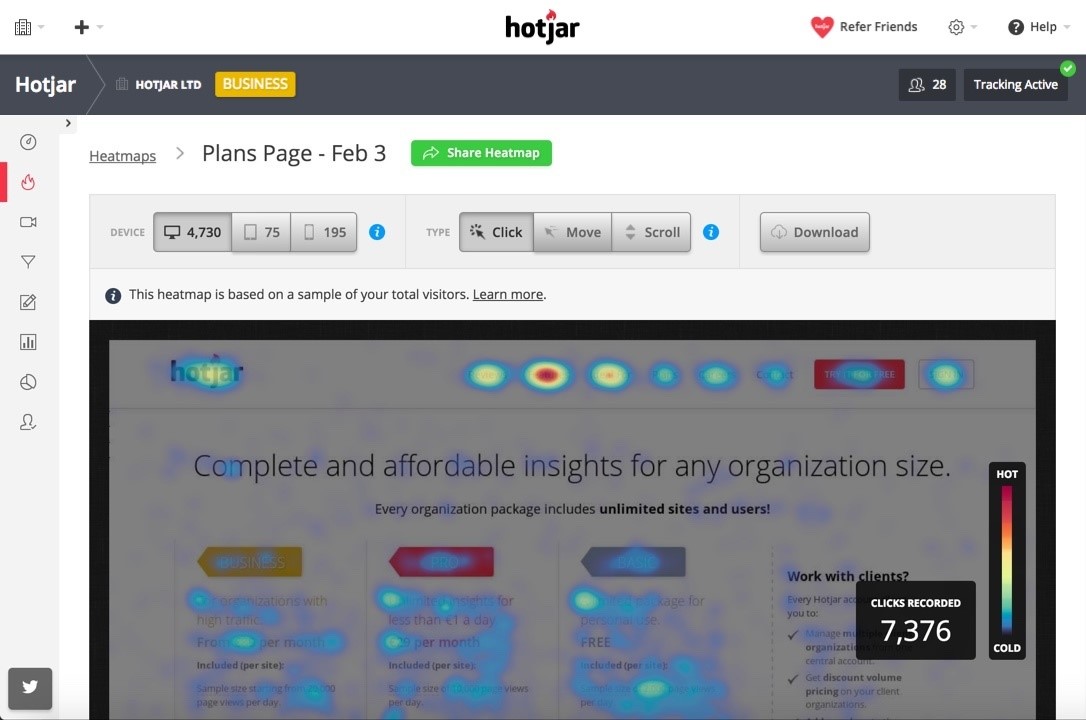 After selecting proper analysis approach (the one of the above or the combination of the two), we should conduct pre-analysis technical examination & check-up tracking tags to make sure the website is under healthy condition to run the tests.
Tips for starter:
Run technical analysis on every page: cross-browser, cross-device, and speed test etc.
Check-up if the tracking tags are well implemented: a tag from GA and a tag from the tool generating heatmaps.
ANALYSE YOUR PERFORMANCE
After the analysis environment is well setup, give it 1 or 2 weeks (depending on your audience volumes) before collecting the data. Now what we should do it to construct performance reports based on scope (site-wide, page-wide or even CTA-wide etc.), conversion funnels etc. to explore potential areas of improvement.
Tips for starter:
Categorize reporting on different browsers, devices (desktop/mobile), and products(with different conversion funnels).
STEP 2 – TEST PRIORITIZATION
With limited resources, prioritize all the potential tests and choose the most impactful ones.
WHERE TO TEST
First of all, we need to prioritize the page(s) to test on with the help of our analysis results in STEP 1. Keep in mind 2 principles with the help of the prioritization model example below:
Prioritize pages with high traffic significance: Most-visited pages, top landing (entry) pages, pages with expensive visits
Prioritize pages with high potential for conversion improvement: Top exit pages, pages with high funnel drop-off rates

Click Here to use the free Page Prioritization Model (Tab – Page Prioritization).
Tips for starter:
Separate the page prioritization process by devices: Desktop / Mobile.
Pay attention to the categories of page when giving scores to each KPIs: ex. For a high % Exit (indicating a high potential for conversion improvement) of "thank-you page",we should score it low instead of high since it is already the end of conversion funnel.
WHAT COULD BE TESTED 
After prioritizing the page(s) on which to run the tests, the next step is to brainstorm and list all the test hypothesis, for example: "adding a contact form at the bottom of page /metiers/marketing-digital will increase the CR from visits to leads".
WHAT TO TEST
After listing all the test hypothesis, it is time to evaluate and prioritize test hypothesis. Here is a helpful scoring system to rank all the possible tests hypothesis in terms of their:
Noticeability: is the change above the fold? Noticeable in 5 seconds?
Impact on performance: is the test running on high traffic page with high exit rate? Is it likely to increase the CVR?
Analysis supported: is the before/after analysis of tests supported by analytics or mouse tracking analysis?
Practicality: can the test be efficient enough to be implemented?