With the support of Jean-Luc Marini (AI Director) who leads the Lab IA, Axys Consultants wants to "increase" the capabilities of its customers through AI.
What value proposition for the « AI Lab »?
With the support of Jean-Luc Marini (AI Director) who leads the AI Lab, Axys Consultants want to increase the capabilities of our clients through AI.
AI Lab is an Axys Group entity designed to stimulate and accelerate innovation in AI
An "in house" business model
The AI Lab's goals:
Imagine and co-design of use cases with clients and Business Experts of Axys Group practices
Demonstrate the advantages offered by machine learning
Increase the added value of our services thanks to the AI "As a Service"
How the AI Lab works?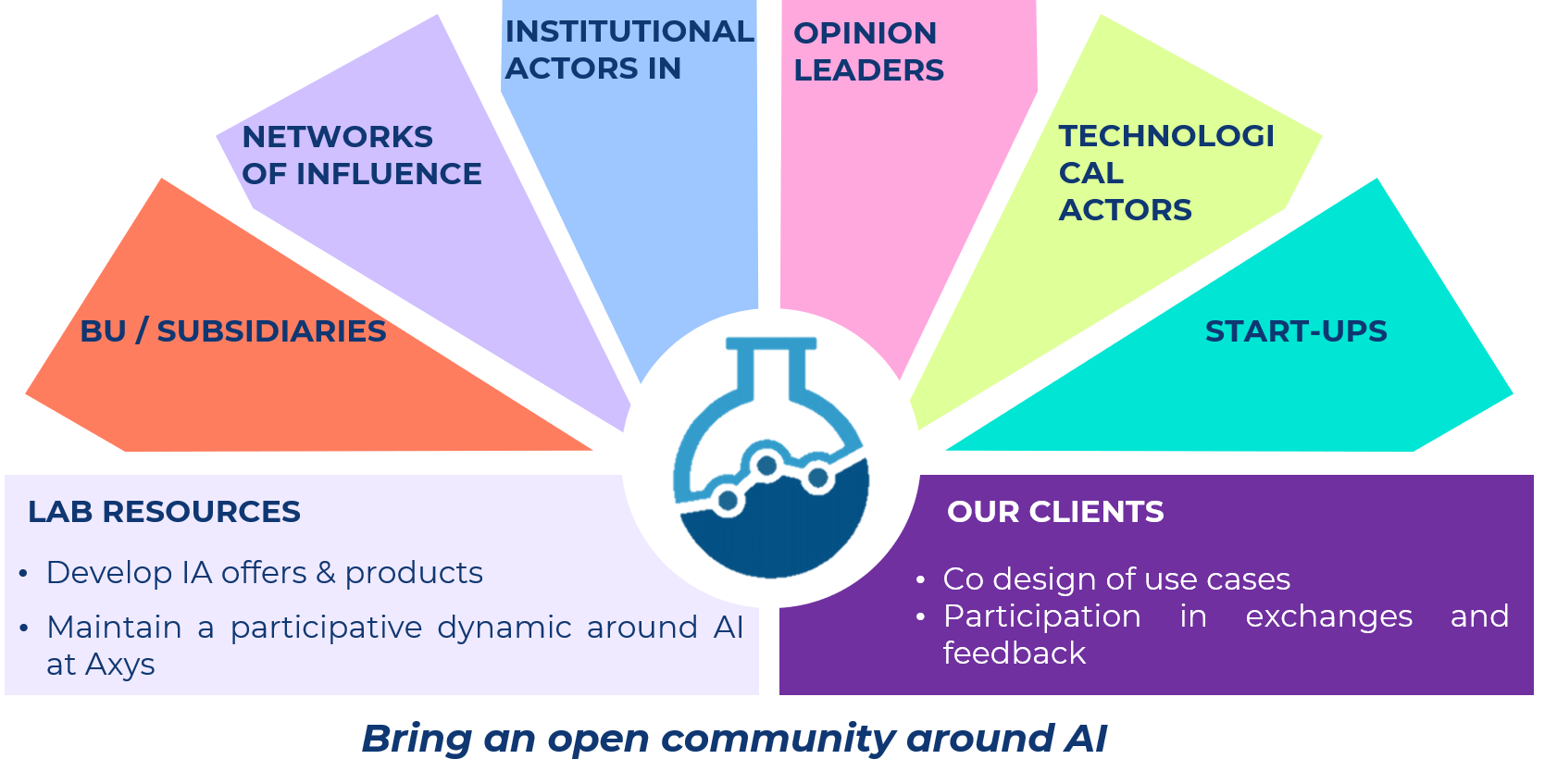 Through this project, Axys Consultants wishes to assert a "committed" vision of performance:
Be the bearer of a global and

balanced vision of performance

(financial, operational, social, environmental)
We want to develop the collective intelligence of our clients, their capacity to learn (capitalization, transformation) and their capacity for innovation thanks to the AI
A team composed of

"Data" and "Techno makers"profiles

A dedicated

Sandbox-type technical architecture

(Data Lake & Cloud Platform)
Our ambition:
Carry out

missions that respond to strong challenges

for society in general and our customers in particular
Better take into account the aspirations of digital natives by allowing initiative and creativity
make Axys Consultants Group's commitment to an

"exceptional collective experience"

An open community around AI (participatory dynamics):
The "Lab IA" builds partnerships with leading schools and universities in the field of AI and joins networks of influence (competitiveness cluster and meetups involved in AI).
12 march of 2019:Partnership with

Audencia

on

scientific publications

and joint research : A first research article will be co-written by

Redouane El Amrani, Associate Professor

in the Management Department of Audencia and

Jean-Luc Marini

on

the uses of AI in Purchasing.

7 june of 2019:Axys Consultants becomes a member of Cap Digital (a European competitiveness cluster that supports collaborative R&D, contributes to the dynamics of the Parisian digital creation industries) in order to offer our customers an environment conducive to innovation and to co-develop with members of Cap Digital.
3 july of 2019:

Signature of an agreement

with

Télécom Paris

on the AI ​​in the service of the digital transformation.
Discover the presentation about the AI Lab
Axys Consultants – AI Lab presentation de Axys Consultants

If you wish, do not hesitate to contact us !