LUXURY AND COSMETICS
The iconic representatives of luxury and cosmetics convey an image of excellence.
When looking for the support of a trustworthy partner in this profession, the Rocher Group, Louis Vuitton and Rolex called on AXYS Consultants. Whether it's guiding an IT department in its digital transformation, from diagnostics to the deployment of the road map, or rebuilding team cohesion, AXYS Consultants offers its proven expertise and keen business understanding to help customers with their performance. Trustworthiness, sincerity, and commitment are the watch words of support in this demanding sector.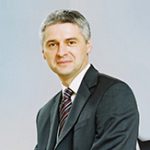 Erwan Clorennec
Learn about the Axys' other business sectors